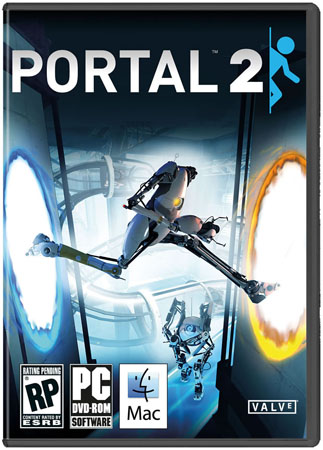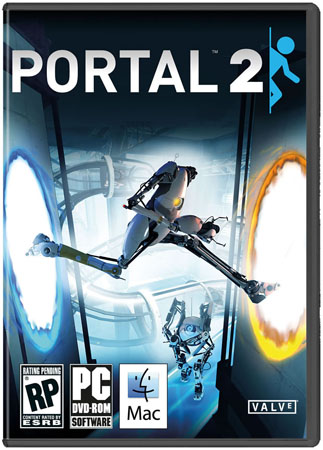 Recently I bought in finished the single player version of Portal 2, which bared, a striking resemblance to the first version of the game. While the general style of the game and fundamentals were the same, it was a lot more voice acting in this game and I would say also more humor. While this game also offered a cooperative play version, I have yet to attend this version of the game mainly due to the fact that coordinating with my friends to play for a few hours it is rather difficult.
So you might be asking what makes Portal 2 different than the original? While generally speaking, the idea of the game was the same, the underlying plot was different driven by a humorous protagonist and often clueless robot "Wheatley"(voiced by Stephen Merchant).the majority of the old-style puzzles were still present, new types of puzzles and solutions were also included, such as three types of goo because various different effects which you can use to your advantage to solve different types of puzzles.
The robots to everybody sees on the box covers including the one in this post, are the two cooperative play robots which are used in cooperative play. Sadly, single player play through's do not have the advantages of a companion to help solve puzzles. Instead, you get the occasional scene with the halfway named Wheatley which proves to be incredibly humorous and often times following his advice can get you into a bigger pickle.
While many of the reviews I have read claim this game doesn't have much re-playability, I feel this can be incredibly enjoyable to play more than one time.I'm not sure if this was just my own personal experience or if other reviewers simply had a different idea of what constitutes re-playability.
Generally speaking, however there is usually only one way to solve a puzzle and I could see where this might hinder playing the game multiple times. GLaDOS of course makes a return in this game giving the main character chell a great deal of a hard time, without spoiling the game. I'm not going to go into specifics about exactly how GLaDOS played into this game other than to say if you played the first one. You know that she was deactivated, I will tell you that she accidentally gets reactivated but that's as much as I'm going to reveal, however that much should be known already , if you watch the commercials.
generally speaking, the game is fairly safe for teenagers to play not having any realistic form of violence, in effect, nobody actually dies in the game. What you can expect however it is the occasional bit of crude humor, coupled with the sadistic personality of a few artificially intelligent robots. You do find out a little bit more about GLaDOS and her origins in this game but they leave just enough of a mystery that a possible third game could be brought up. They don't however explain much about the main character, aside from what anyone who played the first game would already know.
Bottom line, I feel this game was very enjoyable and if you intend to replay the game at some point in the future, most likely starting with the original and then playing the second one in succession. The gameplay experience may be different on the consoles. I haven't tried any of these so I can't exactly speak for, whether it's easier or more difficult, but given the sheer amount of positive reviews, this game is received I will be willing to say that the console versions aren't too difficult in terms of controlling. I will say I tried this on the normal difficulty level haven't tried any of the harder difficulty levels, from what I understand these greatly change how to solve the puzzles, making things more difficult. Hence the hard difficulty level, might give these a try little bit later, however I usually don't do so well with a game set on a hard difficulty level.