It is no secret I am not the most knowledgeable person with regards to Linux, however I do enjoy it and often dabble in more then one distribution at a time. This time I have chosen to look at Fedora 15 which will hit Alpha next month and Ubuntu 11.04 which is currently in alpha.
Both of these distribution versions are still in the stage of development where things are ironed out and the kinks get fixed, however by this point most features and the look and feel are pretty much there buggy though they may be. I am going to take the fact they are still being bug squashed into account in my review of them.
To make the comparison easier I am running them inside of a VM with 1gb of ram allotted to each machine and 50gb HDD. They are being run from VirtualBox 4.0.4 from a Windows 7 64bit Professional host.
While both distributions have taken huge steps toward perfecting the joy that is Linux and Open Source, there is still some work to do before the average Joe windows user decides that Linux may be worth checking out.
I am make no attempts to hide the fact that I use Windows and use it often, I am however not of the frame of mind that Windows is in any way superior to Linux just a different method to achieve the same core goals of an OS. Lets be realistic, if Linux had started out early on it would be the OS in everyone's home not Windows but because we entered the game a bit late we are playing catch up.
Fedora 15 and Ubuntu 11.04 both make huge strides to bridge the gap between stability and Usability, Sleek beautiful artwork and rock solid programing are just a few things I have seen so far. I am not saying they are without bugs, being in this early a stage of the release cycle bugs are expected.
All that Aside let me jump into the areas of interest, keep in mind some of these views I will mention are with full knowledge of how buggy a alpha release can be. That being said, I intent to point out issues I had and then compare them to the finish product when it is released to determine if these were resolved or still exist.
Fedora 15 – Installation
As mentioned above Fedora 15 is not quite to the Alpha stage as such no installer ISO exists yet. I managed an install by using the Fedora GPXE boot installation method and simply changed the paths in the grub menu to point to a Fedora 15 repository. If your reading this you are most likely aware that Fedora now branches their rawhide (normally the development branch) into a new development branch when it gets closer to the alpha release. I used this to my advantage as you can see in the image below I merely altered the fedora 14 development entry to point to this new fedora 15 branch.
Once this is done the install loads up pretty much like normal, however once it loads you get a lot of the types of errors similar to the one below. These errors are frequent and annoying but most of the time repeated presses of the retry button will allow it to successfully download. I am confident this error will disappear with the official Alpha ISO when it is release as the rpms will be present on the image. However, that aside the install will succeeded if you are willing to repeatedly hit retry on more then one file to get it to go. I should note if you accidentally hit reboot your not given any warning and have to start all over again.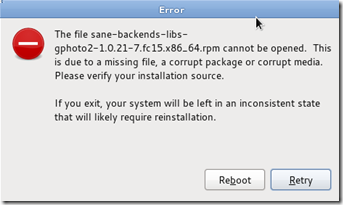 The new user wizard that shows up after a fresh install of Fedora is re-vamped as well allowing for more then one user to be made and allowing adding users to the Administrator group which then allows them to use SUDO similar to how Ubuntu does by default.
Ubuntu 11.04 – Installation
Most of the installation for this works the same as the new revamped 10.10 installer. I did run into some issues with the installer not working in a VM and was forced to use the alternate installed for 11.04 to install this version. Again it is worth saying that this will most likely be fixed in the final release. Installing in a VM can also cause issues like this as well.
Issues related to both distributions
Due to VirtualBox only allowing 128mb of video ram to be assigned to each VM I was not able to get the Gnome Shell effect to work in F15 nor the Unity Effect in 11.04 due to this the effect you get is more classic Gnome looking.
Ubuntu 11.04 – Desktop and Menus
Below is an image of the default Ubuntu 11.04 desktop and a few of the menus, the look is very close to the Ubuntu 10.10 style.
Most of the menus resemble the ones above, fairly straight forward. From what I have seen so far the Ubuntu menu system is a bit more streamlined and requires less fumbling through menus.
Fedora 15 – Desktop and Menus
The menus for Fedora 15 for me looked the same, this was largely due to the VM not being able to support enough video ram to run the Gnome-Shell. Because of this it had to fall back to the classic gnome look and the menus were pretty much the same.
Of course they changed the wall paper that comes with it again but the one they chose seemed less eye catching then some of the previous ones they released, it is still great quality in terms of art and skill just not as 3dish as the F14 one was for example. I am not sure if this is an area they are still working on or if it has been finalized, either way it is easy enough to change and as such not a big deal.
I tried to install the VirtualBox guest additions to see if gnome-shell would work, and this caused Xorg to stop working altogether so I had to roll back to a snap shot from before the install of the additions.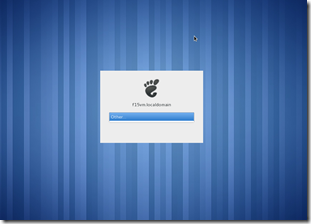 As you can see from the image above there is a small issue with the GDM login screen, when you select a user as part of the administrator group you get the word Other as the only selectable user. This does not always happen and when it does clicking it will cause GDM to reload and then the correct users are listed. I am sure this is a glitch that will be addressed as the development continues.
Fedora 15 – Significant changes
While most areas of Fedora 15 remain pretty common to how the previous versions looked, some stand out and I am not exactly sure this is a good thing or not. I will show you a picture of the new "Control Panel" like system settings window that now contains all the gnome and Linux gui tools like User admin and more.
The above images show just a few of the changes to the Fedora 15 GUI windows, there are literally changes in almost ever GUI dialog so I can not possibly post pics of them all so I chose the more popular ones to show it off.
Things are still buggy in places some of those Unlock buttons you see do not work for me they simply do nothing, others work as planned. I over all am impressed with the re-design but the window style feels very Windows 3.1 to me and that would most likely be the first element I would change.
Again these windows might look this way because I had to use the fallback window manager instead of gnome-shell but it could also be due to the distributions being in early development still.
Final Thoughts
Overall I feel both versions are progressing nicely, they will both change what the current user base sees as well as adding functionality as well. Fedora I believe is making the most radical change in terms of look and feel while Ubuntu tends to tweak their current design elements.
As this is just a entry on my first thoughts it might not be in depth to the point of some readers liking, however I do plan to do a more in depth review once the two are officially released. I will post back here during my tinkering to share any huge changes I might have discovered.
Thanks for reading and leave any comments below.
Entry related Links